Mold Testing in Wayne, NJ
Are you concerned that you have mold spores in your Wayne, New Jersey home? If you have experienced any of the symptoms listed blow, or notice a musty odor from your walls or floors after having experienced water damage to your Wayne home, call the experts today at (973) 291-1321.
How Do I Test For Mold in my Wayne Home?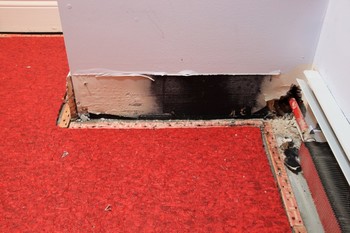 How would you know if you have mold? If you had a water leak or flooding and experienced standing water or prolonged (more than 24 hours) moisture, there is a good chance that water seeped behind your drywall or under your floor boards. If not thoroughly dried, the conditions were ripe for microbial growth, including mold. You might see greenish-blackish growth in cracks in corners or you might detect a musty odor. If you have experienced any of this, call the mold detection experts at Jersey Pro Restoration LLC right away to deploy our Wayne mold detection services.
What Problems Does Mold Cause?
Many people who have experienced mold exposure in Wayne report the following symptoms: difficulty breathing, red, itchy eyes, irritated mucus membranes, coughing, sneezing, headaches, fatigue, and difficulty concentrating on tasks. Mold exposure sickness is more pronounced in young children and the elderly. If you suspect mold exposure, it is important to have testing for mold done by an expert and to swiftly remove it from your home. Jersey Pro Restoration LLC has been testing for mold in Wayne since 2013. Give the experts a call today at (973) 291-1321 and return to health and peace of mind.
How To Get Rid of Mold in Wayne Homes:
Once your building tests positive for mold, it is important to remove it promptly and completely. The mold itself will need to be removed, as well as the conditions that allowed it to grow in the first place. If you are uncertain as to the proper removal of mold in your Wayne home, rest assured the experts at Jersey Pro Restoration LLC can help. We've been removing mold from Wayne buildings since 2013. First, the mold needs to be detected. Often flooring and walls must be removed for proper inspection, and to assess the extent of the mold growth. It is important to use proper safety equipment when dealing with mold removal (gloves, masks and glasses). Once detected, all surfaces must be scrubbed with a bleach/water or other solution that will effectively kill the mold spores. Next, the areas must be thoroughly dried. Often, commercial air movers are used to rapidly and completely dry all effected areas. Then flooring and wall boards can be replaced. For quick response, call (973) 291-1321 for a Wayne mold inspection by Jersey Pro Restoration LLC.
WHAT CUSTOMERS ARE SAYING:
5★★★★★ - "The crew is still helping us recover and I can't say enough about Tony and the entire team. Every day they came to check on my family. They are the nicest, caring, and most hardworking guys. They have been all over my neighborhood in Little Falls after the flood last week. Thank you guys for everything."
Colleen in Little Falls, NJ
2018-08-15
---
5★★★★★ - "I used Jersey Pro to rid mold in my upper attic when found on a home inspection. Ben came, gave me a reasonable price and got the job done. They were prompt and efficient. I highly recommend them to anyone."
S. Marshall
---
5★★★★★ - "They showed up on time and did a great job of cleaning the mold in the basement."
Laurence A., Mold Removal in Wyckoff, NJ
2015-02-16
---
5★★★★★ - "He was fantastic."
Peter G., Mold Removal in Englewood Cliffs, NJ
2015-02-16
---
5★★★★★ - "I hired Jersey Pro to remove mold and to perform the reconstruction work. On the day of mold removal Ben's guys were prompt; they worked efficiently and were very friendly. On the reconstruction side the workers were are again friendly and accommodating but required more supervision having to stay on top of them more. It may also seem this way because it was not a quick repair and move on, but a renovation. if I were to do it again I would still use them."
Betty H., Mold Removal in Madison, NJ
2015-02-16
---
5★★★★★ - "So far I am very impressed with this young mans business sense. He showed up when he said and didn't appear with a doom and gloom story. Mold is bad enough, so others had given me the feeling of knots in my stomach , where I am usually there to calm others.Bel the owner, was realistic while not being over powering. I am an electrical contractor and never scare anyone into business, just layout and educate my customer and tell them what needs to be done to repair and assure them that if I do it , it would be the same as if I was doing for myself, Bel , the owner gave me that same sense."
Jim P., Mold Remediation in Norwood, NJ
2015-02-16
---
5★★★★★ - "Jersey Pro is one of the best and honest no nonsense contractors I have ever hired in more than 20+ years. They were very responsive to every question and concern, and did not prey upon our concerns to sell unnecessary services. I would highly recommend Jersey Pro to any contractor or homeowner."
Vincent P., Mold Removal in Chatham, NJ
2015-02-16
---
5★★★★★ - "They did a very good job. I appreciated the fact that the owner took the time to walk me through their process. Definitely would recommend them."
Kimberly D, Emergency Water Removal in Lincoln Park, NJ
2015-02-16
---
5★★★★★ - "I would work with them again."
Amanda I. Mold Removal in Freehold, NJ
2015-02-16
---
5★★★★★ - "They did a good job. They did exactly what I asked for."
John Z., Mold Remediation in Elmwood Park, NJ
2015-02-16
---
5★★★★★ - "He was very good. They had a very busy schedule. They did the work very quickly. They work pressionally."
Marie C., Fire Damage Restoration
2015-02-16
---
Call for FREE Mold Testing Quote
---