Storm Damage in Paterson, New Jersey
As unpredictable as weather can often be, a severe storm can happen fast. As a storm can quickly intensify, high winds start to roar and pouring rain and potentially large hail starts to fall. Wind and hail in Paterson can cause damage to your property. When disaster strikes from Paterson storm, wind and hail damage, you need a competent restoration company to help. Providing effective, dependable storm damage restoration from hail and wind in Paterson, New Jersey since 2013, Jersey Pro Restoration LLC is here to get things back to normal for you.
---
Call for a FAST Response
---
Paterson Wind Damage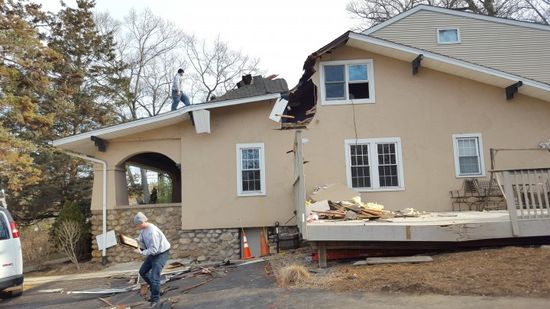 Storm winds in Paterson cause damage on the ground once wind speeds exceed 50-60 miles per hour. Depending on the severity of the winds, trees can be uprooted or large branches can fall. High-speed winds in Paterson can result in devastating damages to your Paterson property, such damaged siding, gutters or fences, and even damage to your yard, garage or roof. Not only can wind damage in Paterson potentially cause windows to shatter from the debris flying around in the air, but it can even cause power outages or even floods.

A Paterson Hail Storm Hits The Roof. Literally.
Once a severe storm strikes and winds heighten, the updrafts of the wind can cause hail to form. Dirt and dust particles from the strong winds are carried high into the cold, top sections of storm clouds, and once those particles freeze, the tiny balls of ice are formed. Once the updraft of the wind weakens, the hail will fall. More than just vehicles are vulnerable to hail damage. When a Paterson hail storm hits, your roof and/or siding on your home can be affected. Hail damage in Paterson can cause punctures, rips, and tears, or bruises in the shingle mats of your roof. Hail can pelt your windows and your siding, leaving holes or punctures. The heavy hail from a recent Paterson hail storm causes leftover damages that need to be repaired.

Paterson Storm Damage Restoration Experts
With over 7 years experience in storm damage restoration in Paterson, Jersey Pro Restoration LLC has been providing reliable Paterson storm damage repair from hail and wind that you can trust. Our fast response time to a storm disaster in Paterson helps minimize any further potential damage to your property or contents and helps keep the storm damage repair costs down. Our Paterson restoration team at Jersey Pro Restoration LLC will assess the condition. We will properly secure your Paterson property in a timely manner and ensure insurance claims are processed smoothly. Jersey Pro Restoration LLC has been providing exemplary restoration for Paterson storm damage for over 7 years. Call (973) 291-1321 for FAST response!
---
Call for FREE Storm Damage Quote
---
WHAT CUSTOMERS ARE SAYING:
5★★★★★ - "Amazing to work with great communication and service! Get the job done effectively! I would def recommend!!"

Rosanna G., Water Damage Restoration in Wayne, NJ

2020-04-10

5★★★★★ - "Very professional service!"

Sabri C., Flood Restoration in Wayne, NJ

2020-04-10

5★★★★★ - "These guys are amazing! So efficient and clean, they do the work fast and it was pleasant to have honest guys who help you out with getting the results you SHOULD have in a home. I would recommend them 1000%"

Cathy C., Water Damage Restoration in Wayne, NJ

2020-04-10

5★★★★★ - "Did an excellent job. Was able to start a few days after I signed the contract."

Roger K, Mold Remediation in Gillette, NJ

2019-11-26

5★★★★★ - "Estimate was exact. Service prompt and efficient. Very courteous. Highly recommend."

John B, Mold Remediation in Dumont, NJ

2019-11-26

5★★★★★ - "Highly recommend. Professional. Quick response."

Cheryl B, Mold Remediation in Secaucus, NJ

2019-10-30

5★★★★★ - "We were needing something done quickly and they got right back to us. They were here in the following day. We appreciated that."

Ed K, Mold Remediation in Middlesex, NJ

2019-10-30

5★★★★★ - "My experience with the owner and the two men who took care of our problem was stellar. They are professional, thorough, punctual, and proactive. I wouldn t hesitate to recommend them!"

Susan, Mold Remediation in Maplewood, NJ

2019-10-30

5★★★★★ - "Prompt, courteous, conscientious. A pleasure to have a company follow-thru in a timely fashion. Great communication. Work ethic is a "10"!"

Colette M, Fire Damage Restoration in Long Valley, NJ

2019-09-24

5★★★★★ - "very friendly and easy to deal with. Did a great job cleaning up took all their garbage with them ."

Jean S, Mold Remediation in Hewitt, NJ

2019-09-24

5★★★★★ - "Prompt, efficient and knowledgeable."

Clalire P., Appliance Leaks in Florham Park, NJ

2019-07-08

5★★★★★ - "I would highly recommend them. Professional, prompt, knowledgeable, gave an accurate estimate on both cost and time to complete."

Linda M., Mold Remediation in Upper Saddle River, NJ

2019-07-08

5★★★★★ - "These guys are incredible to work with. Not only are they very pleasant people, but they are extremely professional. The first job we hired them for I was shocked at how quickly it was done, so we didn't hesitate to hire them for a second and third job. Each time we couldn't have been happier with the work. It's tough to find a crew that does great work who you also feel very comfortable having in your home day in and day out. HIGHLY recommend these guys, they are awesome!!"

Andrés Gutierrez in Clifton, NJ

2019-05-14

5★★★★★ - "Jersey pro restoration was outstanding from beginning to the end. The crew was punctual and professional. Jersey pro performed work they quoted me for and even went a bit further and did extra work which was necessary to complete the job correctly, without charging extra. Ben really does quality work and it shows. Upon the completion of the job my basement looked immaculate. I will be recommending this company to anyone in need of their service.s"

Mark S., Mold Remediation in Livingston, NJ

2019-05-07

5★★★★★ - "The team at Jersey Pro took good care of our home. We would be happy to recommend them to friends and family."

Manny P., Mold Remediation in Rutherford, NJ

2019-05-07

5★★★★★ - "Very prompt and professional. Took time to Answer all questions. Excellent cleanup. Work was done as described. Reasonablly priced."

Lorraine R., Mold Remediation in Clifton, NJ

2019-05-07

5★★★★★ - "Great company. Ben came out, inspected the situation and gave the proposal. They were very fair in the pricing compared to other companies. They were quick to schedule the work. When the work started, it turned out to be a major project. But Ben was quite fair in the revised pricing. Communication was good. His crew is very honest, polite and hard working bunch of people. Would definitely recommend this company for any mold remediation work."

Kapil S., Mold Remediation in Jersey City, NJ

2019-03-01

5★★★★★ - "Reliable, personable, professional, reasonable and reassuring! The owner and his staff provided one of the best experiences we have ever had with any service provider They went beyond what was expected by far!"

Eddie, Mold Remediation in West Orange, NJ

2019-03-01

5★★★★★ - "The Owner and Crew were some of the most respectful and clean people. They went the extra mile every step of the process. They worked hard and fast and took care of the problem. I had zero concerns and earned my trust through their word AND their work."

Peter S., Mold Remediation in Highland Lake, NY

2019-03-01

5★★★★★ - "AAA+ would use them again in a minute. Ben the owner and Anthony and the crew are fantastic!"

Michael L., Sewage Cleanup in Hasbrouck Heights, NJ

2019-01-21

5★★★★★ - "Prompt, courteous, conscientious. A pleasure to have a company follow-thru in a timely fashion. Great communication. Work ethic is a "10"!"

Colette M., Fire Damage Restoration in Long Valley, NJ

2019-01-21

5★★★★★ - "Ben and his staff were respectful of our belongings and of my daughter and myself. They were prompt, courteous, knowledgeable and cleaned up as if in their own homes. Truly appreciate all of their hard work and kindness."

Joyce H., Emergency Water Removal in Caldwell, NJ

2019-01-21

5★★★★★ - "Everything was perfect and timely finished the job."

Kevin L., Dry Out Services in Wyckoff, NJ

2019-01-21

5★★★★★ - "I was very pleased with the prompt, professional and high quality service of Jersey Pro Restoration. They were knowledgeable, courteous and cleaned up after their work as if they weren't even in my home. Most importantly I appreciate the availability of the owner by phone and text to answer any questions and concerns and put my mind at ease about the work being done. All these qualities put together, I would not hesitate hiring them again should their services be needed."

Alan A., Mold Remediation in Wayne, NJ

2019-01-21

5★★★★★ - "We hired Jersey Pro for mold remediation in our bathroom. Our fan has not been properly working and is not in the correct position, but before we move and replace it, we hired Jersey Pro to check and remediate the mold that had surfaced on our ceiling and around our skylight before we repaint and install the new fan. Bel said on the phone that the ceiling may have to be taken down if the mold is bad. But when he saw it, he determined it was surface mold and that it could just be removed. Very quick service, prompt and courteous. He didn't try to swindle me into needing other services like other mold companies were seeming to do on the phone. No scare tactics. Mold is mold is what he said and I agree. Highly recommend."

Julia G., Mold Remediation in Chatham, NJ

2019-01-21

5★★★★★ - "Professional, knowledgeable and timely."

Sheila Y., Emergency Water Removal in Teaneck, NJ

2018-12-21

5★★★★★ - "They kept appointments. Their work was efficient, thorough, and they cleaned up afterward. All the workers were polite. It was a pleasure working with them."

Jaime C., Mold Remediation in Denville, NJ

2018-12-21

5★★★★★ - "Jersey Pro Restoration is the best company to remove mold from the attic. They provided the best price for very high quality work. Two more estimates to clean my attic were about 3 times as high. One company did not even take the project because the attic was hard to get to and has very limited room to move. The best compliment was provided by the attic insulation company. They said my attic was the best they have ever seen and asked for the Jersey Pro Restoration card and contact information. I am very impressed with the quality of work and the results and highly recommend Jersey Pro Restoration for your house and will hire them again."

Vicky N., Mold Remediation in Montclair, NJ

2018-12-21

5★★★★★ - "Very thorough job and a better price than another company estimated. I would hire again."

Suzanne P., Mold Remediation in Nutley, NJ

2018-12-21

5★★★★★ - "The crew is still helping us recover and I can't say enough about Tony and the entire team. Every day they came to check on my family. They are the nicest, caring, and most hardworking guys. They have been all over my neighborhood in Little Falls after the flood last week. Thank you guys for everything."

Colleen in Little Falls, NJ

2018-08-15

5★★★★★ - "I used Jersey Pro to rid mold in my upper attic when found on a home inspection. Ben came, gave me a reasonable price and got the job done. They were prompt and efficient. I highly recommend them to anyone."

S. Marshall

5★★★★★ - "They showed up on time and did a great job of cleaning the mold in the basement."

Laurence A., Mold Removal in Wyckoff, NJ

2015-02-16

5★★★★★ - "He was fantastic."

Peter G., Mold Removal in Englewood Cliffs, NJ

2015-02-16

5★★★★★ - "I hired Jersey Pro to remove mold and to perform the reconstruction work. On the day of mold removal Ben's guys were prompt; they worked efficiently and were very friendly. On the reconstruction side the workers were are again friendly and accommodating but required more supervision having to stay on top of them more. It may also seem this way because it was not a quick repair and move on, but a renovation. if I were to do it again I would still use them."

Betty H., Mold Removal in Madison, NJ

2015-02-16

5★★★★★ - "So far I am very impressed with this young mans business sense. He showed up when he said and didn't appear with a doom and gloom story. Mold is bad enough, so others had given me the feeling of knots in my stomach , where I am usually there to calm others.Bel the owner, was realistic while not being over powering. I am an electrical contractor and never scare anyone into business, just layout and educate my customer and tell them what needs to be done to repair and assure them that if I do it , it would be the same as if I was doing for myself, Bel , the owner gave me that same sense."

Jim P., Mold Remediation in Norwood, NJ

2015-02-16

5★★★★★ - "Jersey Pro is one of the best and honest no nonsense contractors I have ever hired in more than 20+ years. They were very responsive to every question and concern, and did not prey upon our concerns to sell unnecessary services. I would highly recommend Jersey Pro to any contractor or homeowner."

Vincent P., Mold Removal in Chatham, NJ

2015-02-16

5★★★★★ - "They did a very good job. I appreciated the fact that the owner took the time to walk me through their process. Definitely would recommend them."

Kimberly D, Emergency Water Removal in Lincoln Park, NJ

2015-02-16

5★★★★★ - "I would work with them again."

Amanda I. Mold Removal in Freehold, NJ

2015-02-16

5★★★★★ - "They did a good job. They did exactly what I asked for."

John Z., Mold Remediation in Elmwood Park, NJ

2015-02-16

5★★★★★ - "He was very good. They had a very busy schedule. They did the work very quickly. They work pressionally."

Marie C., Fire Damage Restoration

2015-02-16
---
Call for FREE Storm Damage Quote
---